03.12.2013 The new manufacturing building of ARaymond is awarded with the LEED Silver certificate. Hence the building demonstrates the fulfillment of  high standards of sustainable construction according to LEED. The Green Building Certification according to the international LEED process was executed by HOINKA GmbH. In the manufacturing building Bremgarten 150 persons are employed. The production facility for couplings designed by Lais Architekten includes a production hall, warehouse space and a two-storey building with a total of approximately 10,000 m².

The company group ARaymond, a global player and supplier to the automotive industry, receives LEED Silver certification for its new manufacturing building in the industrial park Breisgau. Foto: ARaymond
A particular challenge for the LEED certification was the location of the project and its use as a production building. Many of the LEED criteria were originally developed for office buildings.
HOINKA GmbH supervised the project since 2011 as LEED Accredited Professional (LEED AP) and commissioning authority. After a detailed pre-assessment, which served as a decision basis for the client, the necessary measures to achieve a LEED Silver certification were identified and presented to the client. Based on this HOINKA GmbH created a functional specification for the client that facilitated the implementation of all criteria for participating designers. Particular emphasis was paid to implement the complex LEED requirements for building services, the use of ecological building materials and construction documentation in the ongoing planning and construction process. An ongoing review of planning has also taken place.
Here are some highlights of the project that led to a LEED certification:
Energy efficient system and energy concept (use of ground water for heating and cooling)
Use of low emission materials (flooring, paint, varnish, etc.)
Water-saving faucets (60% water savings compared to the LEED reference value)
Use of rainwater
100% stormwater runoff through percolation fields on the property to preserve the natural water cycle
Good Indoor Air Quality
Compliance with sustainability standards on the construction site
Purchase of green electricity
Fundamentals and Enhanced Commissioning with HOINKA GmbH as commissioning authority
Almost 100% recycling of the resulting waste during the dismantling and new construction
Use of local and recycled materials to protect the environment
Good access to public transport
Provision of electric charging stations for electric cars
Use of large green areas with native plants
LEED is a quality label for sustainability, which is awarded by the U.S. Green Building Council. The name LEED stands for Leadership in Energy and Environmental Design. The label distinguishes buildings that are designed and built particularly sustainable.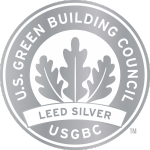 ARaymond: Since 1995 the German subsidiary of ARaymond, which has its headquarter in Lörrach, produces  Quick Connectors (QC). These connectors are used to connect pre-configured diesel and fuel lines in cars, trucks or tractors with each other.