Online-Tools
We do offer several solutions on our online-platforms.
Contact us
A forward-looking perspective.
You remain always one step ahead of the competition with products and solutions from HOINKA GmbH: online product databases, online software solutions or the development of innovative building concepts – added value for you as well!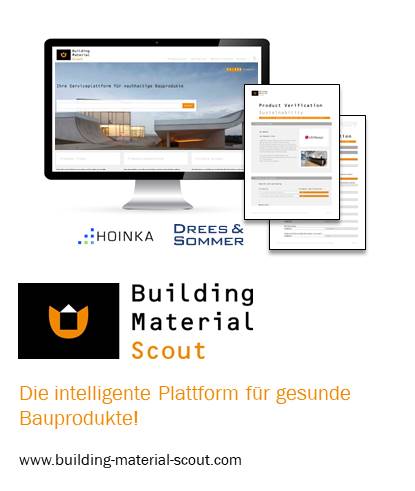 The intelligent platform for healthy building materials
A confusing variety of product labels, building certificates and material declarations makes it almost impossible for principals and planners to maintain an overview. Manufacturers are constantly faced with requests for certificates and declarations. And more recently, more product-related BIM elements and environmental audit data are being requested.
On www.building-material-scout.com financiers, principals, project developers, architects, planners, builders, and operators find all relevant product data for Green Building in one place. Building Material Scout evaluates and structures material-related information, making it easier to find suitable materials and products. Predefined and customizable search filters allow users to select the right materials – for example for a Green Building certification according DGNB, LEED or BREEAM. The benefits are reduced time for product research and documentary evidence and planning certainty for Green building projects.
The 1st database for products assessed in terms of LEED and DGNB criteria
The investigation and documentation of qualified products according the project requirements generate a huge expenditure of time. Therefore we do offer you an online product database, where you can find easily products assessed in terms of LEED and DGNB criteria. In cooperation with the manufacturers we provide you all relevant information and assessments that you need for your certification projects. Learn more on www.greenbuildingproducts.de.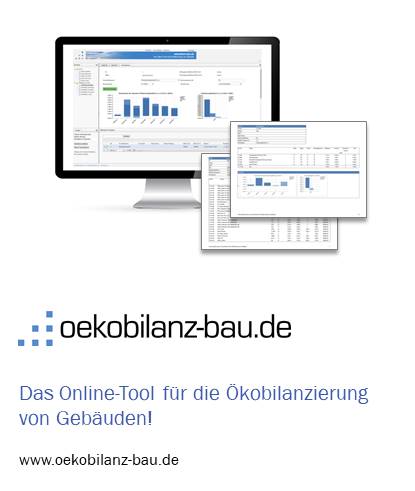 The Online-Tool for Life-Cycle-Assessments of Buildings
The environmental Life-Cycle-Assessment method is an important way to improve buildings in terms of sustainable aspects holistically. It will be considered the construction, use and disposal of the building over the whole life-cycle. With our Life-Cycle-Assessment tool we do offer you a powerful online software, that gives you all opportunities to carry out life-cycle-assessments for your building projects. Learn about LCA on www.oekobilanz-bau.de (German only)