12.10.2012 To the beginning of Expo Real 2012 in Munich Stettiner Carré in Berlin and Campus Carré in Frankfurt am Main became the first existing properties in Germany to be distinguished with the new, internationally-acknowledged BREEAM DE certificate from the German Private Institute for Sustainable Real Estate (DIFNI).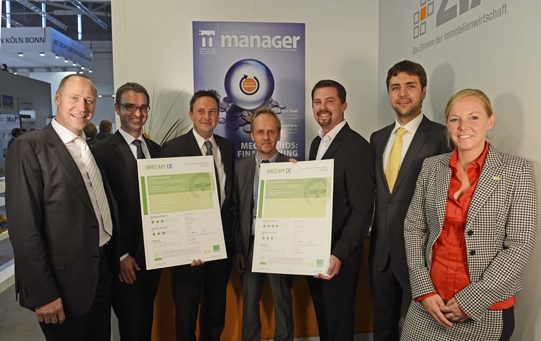 This seal of quality, which is based on BREEAM, the most established and commonly-applied certification system, was only rolled out in the Federal Republic in March 2012. The objective of the system is to present much improved comparability and transparency, in order to enable the appraisal of portfolios on a transnational basis. BREEAM DE Existing supplies owners, operators and tenants with a transparent platform for the identification of performance improvements, as well as a management tool for sustainable building operation. That is the reason why Round Hill Capital, as an international Asset and Property Manager, decided to pursue this new quality seal; the technical consulting firm, VALTEQ, was commissioned to provide support and advisory services during the certification process for both of the presented projects, acting in the role of BREEAM Assessor. HOINKA GmbH was BREEAM Auditor for this project. Both properties have been managed by Round Hill Capital since March 2011.
"The new BREEAM certificate facilitates much improved international comparability. Both existing properties demonstrate high standards of fit-out in office real estate. The project did however prove that the procurement of information for existing properties is substantially more time-intensive and complex than is the case for new-builds," explains Jürgen Scheins, Managing Partner of VALTEQ. The technical-commercial real estate consultant accompanied the certification process to its successful conclusion within an extremely tight timeframe, whilst simultaneously providing advisory services regarding economic optimisation of the certification findings.
The certification was carried out during the period from June to August 2012, within the framework of the pilot phase for the BREEAM DE Existing system. Both the building and its operation were appraised as part of the process. These were then each subdivided into the categories: Management, Materials, Water, Health and Comfort, Environment, Energy, Soil and Ecology, with defined point scores awarded in every category. The evaluation is a result of the total point score achieved. Based on this approach, the Berlin project achieved a rating of "Very good" with regard to the building and "Good" for its operation. The Frankfurt office property was rated "Good" in both segments.
Campus Carré in Frankfurt am Main was erected as an office building in 2001/2002 and has a rental area of approximately 30,747 m², comprising office and storage space. Various branches of the Hochtief company are among the tenants. Berlin's Stettiner Carré was erected in 2004 with a gross floor area of 63,306.93 m² plus 5,320 m² of underground car park space and is let to Deutsche Bahn. Olaf Claessen, Director of Asset Management for the managers, Round Hill Capital, is delighted with the results of the certification process: "To have attained both internationally-recognised quality seals just goes to prove how important sustainability is to us in our properties. The tenants reap and enjoy the benefits of this on a daily basis."
Please don't hesitate to contact us for further informations in terms of BREEAM DE. >> Contact