23.09.2011 Now you can find the polyurethane board product purenit® 550 MD from puren GmbH in the product database greenbuildingproducts.eu. purenit® is a polyurethane product on (PUR/PIR) rigid foam basis, free of CFCs and HCFCs, with a high thermal insulation grade. You can process this high-performance multi-function material on any wood-working machine, it is recyclable and originally not laminated. purenit® is a multi-purpose material. On account of its outstanding composition, purenit® can be fastened with screws, is stable against moisture, hard, light-weight, easy to handle and process, temperature-resistant, heat-insulating, resistant to chemicals, excels through its high rigidity, and may be laminated and/or combined with other materials.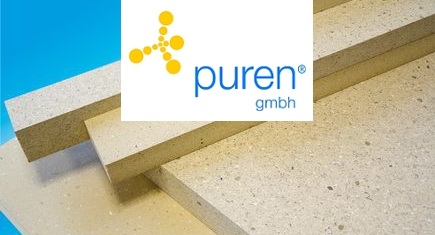 Your declarations for download:
purenit® 550 MD
The product fulfills the following LEED and DGNB criteria:
LEED New Construction:
The product contains 50% recycled materials and contribute to achieve LEED credits within MR Credit 4 "Recycled Content".
DGNB Neubauversion 2009:
The product is free of lead, cadmium or tin stabilizer. It is expanded without any halogenated foaming agents.Therefore the product fulfills the requirements of action level 1 to 4 and contributes to achieve 10 (of max. 10) criterion points within Criterion 06 `Risks for the regional environment´.
You can find further information on www.puren.com.
you can download all required proofs in the product database on greenbuildingproducts.eu